1880
"…but afar off…came a sound as of one who drives nails into resonant boards. As I live, it turned out to be a new church in the course of erection on an island."
Canoe trip 8 August 1880. George Washington Sears. "Nessmuk's Adirondack Letters"
1890
"St. Hubert's jagged front, rude paths and rustic bridge…declare a spot remote…"
""Like pinions moving, the oars are plied the church to reach"
Rev. E.O. Flagg. "Earlier and Later Poems"
1893
"A small chapel of graceful design stands on this island, and, with its parsonage, forms an interesting feature of the locality."
"State of New York Annual Report of the Forest Commission"
1921
"The scene of a bright Sunday morning, when the boats gathered from far and near, filled with worshippers in gay apparel, was highly picturesque and gave church-going the novel charm of a devotional outing to a shrine of God-tinged beauty."
Alfred Donaldson. "A History of the Adirondacks"
Church of the Good Shepherd
St. Hubert's Isle
HC02 Box 237
Raquette Lake, NY
13436-9601
1ST DURANT DAYS A SUCCESS
TOUR OF GOOD SHEPHERD 
From August 6-8 Raquette Lake celebrated its first Annual Durant
Days. More than 350 enjoyed activities for the whole
family—everything from barn dancing to a boat parade to tours of
the Adirondack Great Camps built by William West Durant (1850-
1934).
On Sunday morning 60 of you—all that the barge could
handle—toured Good Shepherd (1880), St. William's (1890) and
Camp Pine Knot  (1876-89), all buildings associated with Durant.
Jean Carmichael spoke for 20 minutes about the history of St.
Hubert's. and her granddaughter Dorian described life in the late
1800s on neighboring Osprey Island. Then everyone trouped over to the
rectory porch to enjoy a continental breakfast provided by Jean's
daughter-in-law, Sandra.
---
AMERICA'S CASTLES
In the summer of 1995, A&E cable television sent several free-
lance writers and photographers up to the Raquette Lake area to
film a segment for their popular series, "America's Castles,"
highlighting the rustic summer camps built by William West
Durant and later sold to J.P. Morgan, Collis P. Huntington, Alfred
G. Vanderbilt and NY Lt. Governor Timothy Woodruff.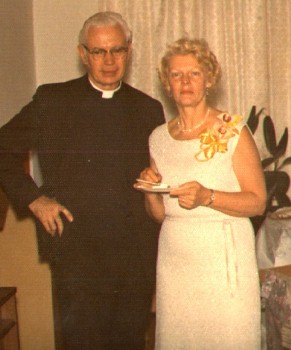 One of the individuals interviewed was the Rev. Ralph M.
Carmichael of St. Hubert's Isle. He spoke of how Durant raised
the funds to build the Church of the Good Shepherd, dedicated to
the people of Raquette Lake, and had personally brought the
beautiful stained glass windows and pump organ over to the
island.
And of how Ralph felt that the people of Raquette Lake, then as
now, are the "salt of the earth."
Although that segment ended up on the cutting room floor, the
family appreciated being sent a tape of Ralph's last interview
before his death just ten days later, on 26 August 1995.
[Note – we later found that two VHS tapes were made from those
interviews and Ralph's segment is on the second, found by
organist Steven Rosenberry in a library and viewed by Andy
Carmichael at a real estate meeting!]
From that series came the idea of publicizing all that Raquette
Lake has to offer, emphasizing the special place that Durant
holds in opening the Central Adirondacks to tourism. Donna Pohl
of the Raquette Lake Navigation Company and Beverly Bridger of
Sagamore were the prime instigators, supported by the entire
community.
Durant's Great Camps          Sagamore          Pine Knot
---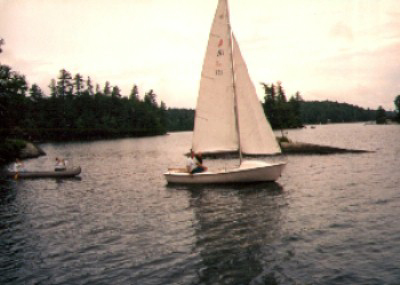 75 ATTEND ANNUAL SERVICE BY BOAT
They arrived by party-barge, canoe and rowboat—no sailboats or
seaplanes as in past years. There were many new visitors to the
island church, and many who have been faithfully attending since
1959.
We missed Stanley Brown-Serman's daughters this summer,
Mary Walke and Betty Hayes. They have been coming to the
Island since the 1920s. In the 1950s we even had a neighbor
from nearby Wee Two Island who remembers coming to services
as a young child, before 1900.
A big thank you to the Rev. Alan Macnab from St. Eustace Church
in Lake Placid who was the guest preacher, and to his organist,
Virginia Gilmore, who did an excellent job on the 1873 Estey
pump organ. And thank you to everyone for your generous
contributions for the care of this historic building.
---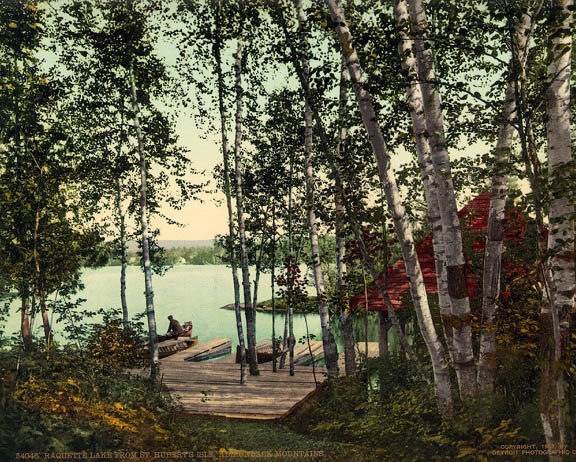 LET US HEAR FROM YOU-
Thank you everyone who signed up to help with future services.
You offered to assist with everything from refreshments to
bringing chain saws to help cut through the brush!
We will be contacting you in the spring to begin plans for next
summer. In 2000, the Durant Days Tour and the Annual Service
will both be on the same day, Sunday 6 August.
Please write us at the above address or from the web site if you
have any further ideas on how to keep Good Shepherd viable for
another 120 years…
**********
Matriarch of all—Jean Carmichael
Carmichael Family Trust—Paul Carmichael, Trustee
Good Shepherd Fund—John Carmichael
Web Page and Newsletter—Fay Carmichael
Gardener Extraordinaire—Sandra Carmichael
Master Carpenter & Electrician—Raymond Masse