1890
"St. Hubert's jagged front, rude paths and rustic bridge…declare a spot remote…"
""Like pinions moving, the oars are plied the church to reach"
Rev. E.O. Flagg. "Earlier and Later Poems"
1893
"A small chapel of graceful design stands on this island, and, with its parsonage, forms an interesting feature of the locality."
"State of New York Annual Report of the Forest Commission"
1921
"The scene of a bright Sunday morning, when the boats gathered from far and near, filled with worshippers in gay apparel, was highly picturesque and gave church-going the novel charm of a devotional outing to a shrine of God-tinged beauty."
Alfred Donaldson. "A History of the Adirondacks"
Church of the Good Shepherd
St. Hubert's Isle
HC02 Box 237
Raquette Lake, NY
13436-9601
News from St. Hubert's Isle – 2003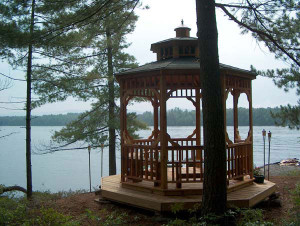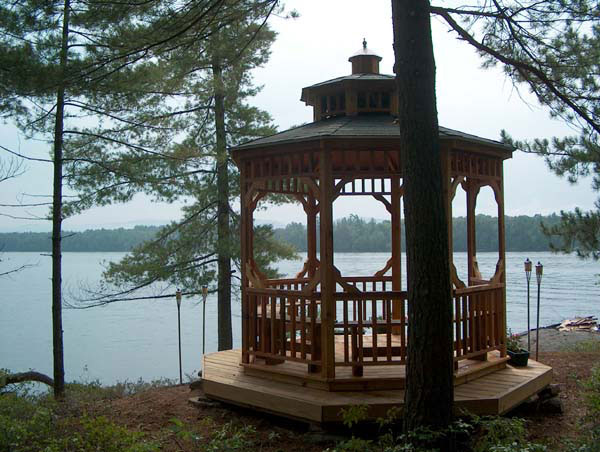 Good turnout of 78 for the Annual Service in August. Most of the
time at the Island this summer was spent cleaning and repairing,
as you can see from the website.
Gary Alker again brought a group of young people from Maryland
up to St. Hubert's for 10 days this summer. He just e-mailed
photos from the summer activities, including Jean Carmichael in
swimming! The group spent eight days tearing down the old
gazebo and putting up a new one.
(All the labor and materials for the project were donated,
separate from the Building Fund.)
---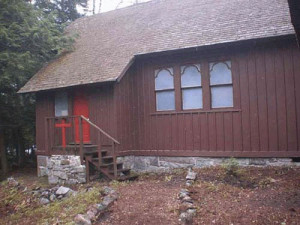 This page has before and after shots of Andy Carmichael's
painting improvements, after a lot of clearing of trees was done
by the rest of the family in July. A beaver had built a home in our
boathouse over the winter, leaving sharp pointy tree stumps
surrounding the church. Photo "d" has a glimpse of the new
foundation, finished last October. Thank you so much to everyone
who contributed. Next summer we start on the roof!
---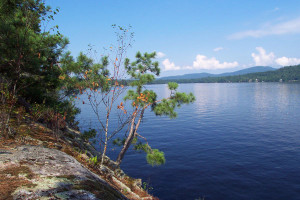 And here are photo galleries from last summer – the youth group
from Grace Community Church in Columbia, MD, the same group
that built the gazebo this summer. Six sets of photos which are
still being added to.
---
And for those of you waiting for 90th birthday photos, I still have
to scan them all. Sorry.