---
Raquette Lake | William West Durant | Great Camps | Clergy | Time Line | Writings | Documents | Bibliography
---
WILLIAM WEST DURANT 1850-1934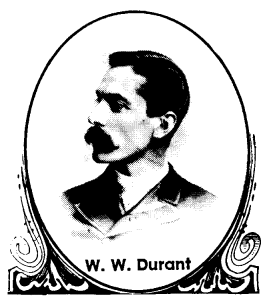 In 1874 a New York City newspaper reported that "…the painter, William West Durant, was summoned home from Europe [actually North Africa] by his father, railroad tycoon Dr. Thomas Clark Durant, to help in promoting the Adirondacks as a tourist attraction." [1] William was 24 at the time.
William West Durant was born in Brooklyn, New York, in 1850, the son of Dr. Thomas Clark Durant and Heloise Hannah Timbrel. He attended Twickenham School in England and Bonn University in Germany.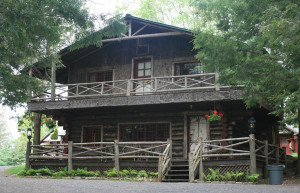 1876-77 Swiss Chalet started by
Dr. Durant as a rough cabin
1882 2nd Floor added by William
After university his travels in Europe exposed him to many types of architecture, particularly the chalet style in Switzerland which in 1882 he incorporated into what became known as the first artistic Adirondack Great Camp, Pine Knot.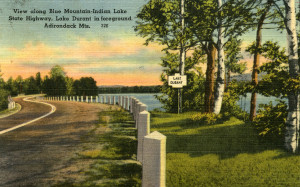 Lake Durant
Lake Durant commemorates the man who, more than any other, opened up the Central Adirondacks to tourism 19th century style. In 1936 his widow dedicated the lake with a plaque reading:
"Lake Durant named in honor of William West Durant 1850 – 1934
Who devoted much of his life to developing the Adirondacks and making known their beauties." [2]
 
 Early steamer 'Adirondack' at the Antlers – could carry 300
 
 W.H. Jackson c1905-1920
Library of Congress Collection

 W.H. Jackson more >>>
Library of Congress Collection
It is largely thanks to W.W. Durant that not one but two small railroad lines served Raquette Lake. In 1892, after observing Dr. Seward Webb's success with overnight train service from NYC through Herkimer to Fulton Chain (Thendara), Durant conceived the possibility that Pullman cars might travel all the way from New York City and Philadelphia through Raquette Lake to Blue Mountain Lake.
His first idea was via railroad car barges across Raquette Lake and up the Marion River; then on land across the Marion River Carry. And finally on barges again through Utowana and Eagle Lakes to Steamboat Landing on Blue Mountain Lake.
 
Lower Carry on
Marion River
<<<
 
 Upper Carry on
Utowana Lake
>>>
W.H. Jackson c1902 (Phostint)
1918 Barge for freight car to
carry supplies onto Blue Mountain
 
 
 Marion River Carry Railroad
more >>>
 1911 photo by E.E. Kellogg
 
 
 Freight car on barge behind steamer
 Boardwalk to Upper Carry
The barges did indeed carry freight cars full of supplies for Blue Mountain Lake, but never passenger cars. Instead, Dr. Thomas Durant engaged a fleet of rowboats and later his son had small steamers carry the visitors. In 1879 he had horse-drawn wagons or ox carts carrying the baggage while people walked over a wooden boardwalk from the Lower Carry to the Upper.
By 1900 the enterprising Durant procured a locomotive and then passenger cars for the Marion River Carry Railroad from the New York City Elevated Line, both now at the Adirondack Museum. From 1900-1929 this was the shortest full-gauge railroad in the world – 3/4 mile in length. [See Richard Allen's The Carry Railroad]
 
 
 1909 Station & Steamer dock
more >>>
 H.M. Beach photo
NY Central spur to Raquette Lake
From 1900-1933 New York City visitors arrived at the Raquette Lake station from Clearwater (Carter), by way of an 18-mile spur of the New York Central Railroad originating in Utica, nick-named the "Millionaires' Line." The Raquette Lake Railway carried from 8,000-10,000 passengers each season during its heyday.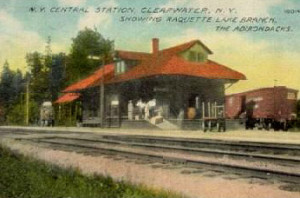 1900 Station at Clearwater
Many guests stayed at the Raquette Lake House (1903) in the village, Hunters' Rest, Brightside-on-Raquette (1891), Sunset Camp on Woods Point (1895), Blanchard's Wigwams on Green Point (c1880), Rush Point Camp (1881) and the Antlers (1887). Others travelled by motor launch to their private camps on the lake.
| | |
| --- | --- |
|   |   |
|  Killoquah No. One 1879-1891 |  Tuscarora 1902-1929 |
Beginning in 1879 those passengers continuing east to Blue Mountain Lake boarded the steamers Killoquah, Sagamore or later the double-decked Adirondack for the Marion River Carry. At the Upper Landing they were met by the steamers Tuscarora, Irocosia, Utowana or Toowahloondah for travel through Utowana and Eagle Lakes to the many camps and hotels on the shores of Blue Mountain Lake.
Harold K. Hochschild recounts in his book, Adirondack Steamboats on Raquette and Blue Mountain Lakes, how the spelling of Toowahloondah/Towahloondah varied from year to year depending on who did the refurbishing that spring.
 
 
 1920s Taking on cars at
Forked Lake Carry
 1931
Rough portage on Raquette Lake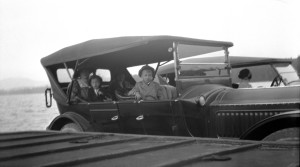 1920s Raquette Lake Car Ferry more >>>

In the early 1900s, as automobiles became more and more popular, "driving" was considered a new leisure pastime. In June of 1916 the New York Times reported that:
"Traveling by automobile is the dominant sport this Summer at the expense of trout angling, rough camping, canoeing…."
"The honk-honk of the automobile has long since replaced the crack of the whip and the clarion notes of the tally-ho bugle on Adirondack highways, and the horse-drawn vehicle is yearly becoming more of a rarity."
And so another form of transport was by car ferry from the Forked Lake Carry at the north end of the lake, eight and a half miles across beautiful Raquette Lake to the village. In 1901 Durant put the small double-decker Lillian into service in as a towboat for the car floats.
Ralph M. Carmichael
June 1969
(amended 2004, 2006
Fay A. Carmichael)
---
Raquette Lake | William West Durant | Great Camps | Clergy | Time Line | Writings | Documents | Bibliography
---
NOTES
[1] David Minor. Eagles Byte Historical Research, Rochester NY. NYNY Index 1873-1876. [Online] Available HTTP: http://home.eznet.net/~dminor/NYNY1873.html. [August 15, 1999].
[2] 1936 highway marker at a rest area 1.6 miles east of Blue Mountain Lake NY.
[3] Library of Congress, Prints and Photographs Division, Detroit Publishing Co Collection.
Jackson, William Henry. 1902-1920. "Touring Turn-of-the-Century America."
In Detroit Publishing Company Collection from the Library of Congress, 1880-1920. [Online] Available HTTP: http://memory.loc.gov/ammem/detroit/dethome.html. [August 15, 1999].