PAGE 1
1900 – 1929
 1879 – 1899


Steamer Ticket courtesy Robert Reid
William West Durant created both steamboat lines some 21 years before he built the Carry Railroad.
Travellers walked across the carry or used horse-drawn carts; adventurers carried guide boats
1885 KENWELL'S LANDING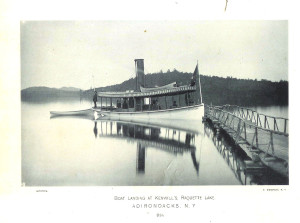 Edward Bierstadt photo courtesy Larry Miller
Kenwell's Landing (Tioga Point), site of an early hotel, was the steamboat dock on Raquette Lake for passengers continuing north to Forked and Long Lakes.
Those going south had changed at Bennett's hotel, Under the Hemlocks, to rowboats for Golden Beach, etc.
 
 
 
 1890s E. Bierstadt photo Lower Carry
Horse-drawn luggage cart
Steamer Killoquah No. 2
 Boardwalk to Upper Carry –
Horse-drawn carts carried baggage
People walked to waiting steamer
 1911 E.E. Kellogg Photo
Carry RR Between Marion & Utowana
 
 
 
 Shortest Standard Gauge Railroad
Men with handcarts, Upper Carry
 1902 W.H. Jackson photo with
Phostint – Small steamer crowded with passengers
approaching Lower Carry where larger
Adirondack is awaiting the train
 1918 Upper Carry Utowana Lake
Note train at edge of dock able to push
freight car onto barge (with tracks)
 
 
 
 Steamer Adirondack went four
miles up Marion River to
Lower Landing
 Transfer Station – Railroad to
Steamer Killoquah No. 2 – HM Beach
 Pub 1920s Callahan Co
Blue Mountain Lake
 
 
 
 Marion River Carry Lower End
 Dock lantern from Marion River Carry
Oil can bent in 1913 RL Railway accident
 1920s Marion River Carry Hotel
built by WW Durant in 1900 – 20 rooms,
fresh fruit & vegetables grown nearby
BEGINNINGS
In 1862 President Lincoln called Dr. Thomas Durant to Washington to oversee construction of the Union Pacific Railroad as its vice-president, leading to the linking of the Pacific and Atlantic coasts by rail. With its successful completion in 1869, Durant returned to Albany to become President of the Adirondack [Railway] Company.
In 1871 the New York State Legislature requested that the Adirondack Railway be extended another 40 miles from Saratoga to North Creek. In return, Durant and Leland Stanford were either given or were able to purchase almost 700,000 acres in the Adirondacks at five cents an acre.
This acreage included Blue Mountain Lake, Eagle Lake, Utowana Lake and much of the north shore of Raquette Lake. In 1874 Durant recalled his son, artist William West Durant, home from Egypt to help manage his land holdings. Within the next 25 years great camps, huge hotels, a golf course, steamboat lines, stagecoach lines, a telegraph line and a post office were built on Raquette and Blue Mountain Lakes – all owned by the Durants or their relatives and friends.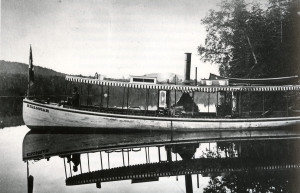 BEFORE THE RAILROAD
In 1879 WW Durant dammed the Marion River to allow steamer travel from Blue Mountain through Eagle and Utowana Lakes. He also launched the steamers 'Killoquah' (above) on Raquette Lake and the slightly smaller "Toowahloondah" on Blue Mountain Lake. But it was 20 years before Durant began steamboat travel from Raquette Lake through to Blue Mountain using passenger wagon trains over the carry.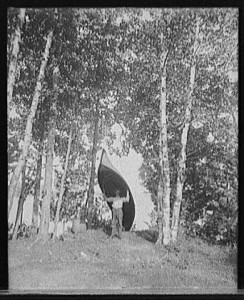 Until then passengers carried their luggage over the wooden boardwalk to reach awaiting steamers. Other travellers used horse-drawn baggage carts. Guides and adventurers carried their canoes and guideboats over the carry in the traditional manner (above) to the next lake.
Durant briefly considered a canal with locks, then surveyed for a railroad line – the Marion River Carry Railroad which opened in 1900.
20TH CENTURY
Unfortunately, within months, due to the death of his financial backer, Collis P. Huntington of the Central Pacific RR, in August 1900 and his own personal financial difficulties, Durant was forced to turn over operation of the entire steamship and railroad line to Dr. Seward Webb. It was reorganized as the Raquette Lake Transportation Company.
In 1923 Webb sold the line to its long-time manager, Maurice Callahan. The railroad continued operation through 1929 when the combination of (1) the Great Depression, (2) the completion of state highway 28 from Blue Mountain Lake and Raquette Lake through to Inlet, (3) the 1927 fire that destroyed the village as well as three steamers and (4) the popularity of automobile travel made the little railroad no longer necessary.
In 1930 Engine No. 2 was sold to the Raquette Lake Supply Company, who sold it to H.A. Birrell of North Point. In December 1954 Mr. Birrell donated the engine to the Adirondack Historical Association. It is now on display in the Adirondack Museum which opened in 1957.
TODAY
Dean and Donna Pohl of the Raquette Lake Navigation Company are presently developing plans to reopen the Marion River Carry Railroad as an historical tourist attraction.
Ownership    |    Engine Specs    |     Richard Allen's "The Carry Railroad"    |     Adirondack Museum page
Bassett's Carry    |     1881 NYT Long Voyage by Canoe    |     1895 Health & Pleasure on America's Greatest RRs
~~~~~~~
Special thanks to S. Berliner, III, Robert Reid and www.SteamLocomotive.info for their contributions to this page.
Comments and Corrections Welcome – here
---
Return to Raquette Lake Photos      |      To Raquette Lake Railway      |      Page 2>>>