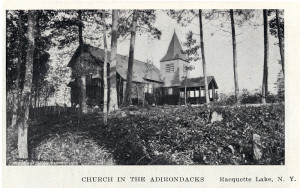 1880 # 792
View from dock, man in bowler hat to right of steps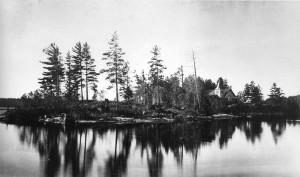 Early 1880s – Island trees were felled to construct church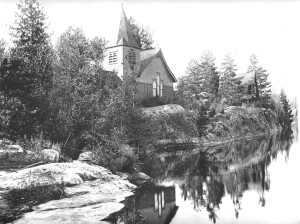 Published 1893
Man between church & rectory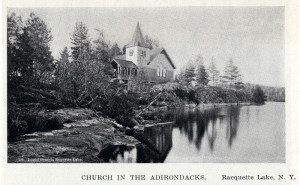 1880 # 790
Island Church
Series of commercial shots at request of WW Durant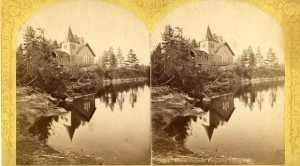 1880 # 2403
Reflection typical of Stoddard's work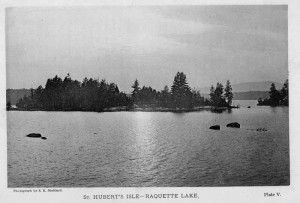 Published 1898
Example of "luminosity"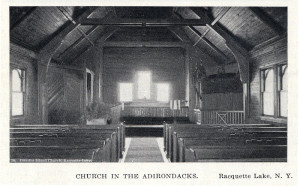 1880 # 794
Interior Island Church
Note ferns in font, lanterns above organ
no Tiffany windows yet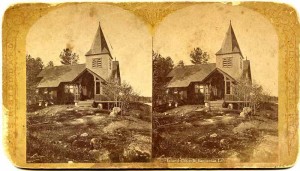 1880 # 5401
Women on porch
Published 1900 – shows original Rectory
perhaps Stoddard
More photos:
Seneca Ray Stoddard
1912 Stoddard Antlers Brochure
~~~~~~~
In September 1880 Seneca Ray Stoddard was hired by his friend, William West Durant, to shoot a series of commercial photographs of the new Island Church on Raquette Lake. Durant hoped the photos would show the Adirondack wilderness was open for development, the church to be the center of village life and of course, incidentally, help to promote the sale of his rustic camps to the vacationing public.
Stoddard must have appreciated the beauty of St. Hubert's Isle as he returned many times on his own to capture the image of the Mission of the Good Shepherd. He only numbered his commercial photos and, unfortunately, rarely dated any of them.
The first three photos were given to AARCH (Adirondack Architectural Heritage) in a photocopy of an 1897 article from the Architectural Journal on the works of the esteemed architect Josiah Cleveland Cady (1837-1919).
Cady was the designer of the original Metropolitan Opera House, the Museum of Natural History in NYC, 15 buildings at Yale and many churches including one for the Virginia Hampton Institute, the first college for Native and African-Americans.
The University of Pennsylvania Fisher Fine Arts Library kindly sent us scans of the three photos from the original 1897 article, helping us to document Cady as the architect of Good Shepherd. The discovery of a Stoddard stereoview on a British website and an e-mail from the former director of the Chapman Museum in Glens Falls identified Stoddard as the photographer.
~~~~~~~
Stoddard's work is located in the Chapman Historical Museum Glens Falls NY – 7000 prints
and the Adirondack Museum Blue Mountain Lake NY – 5000 prints
Additional photos and obituary found here
Also see
Adler, Jeanne Winston. Early Days in the Adirondacks: The Photographs of Seneca Ray Stoddard.
New York: Harry N. Abrams, Inc., 1997
---
Return to Seneca Ray Stoddard      |      Return to St. Hubert's Index