Raquette Lake | William West Durant | Great Camps | Clergy | Time Line | Writings | Documents | Bibliography
---
A Sketch of the History
of Raquette Lake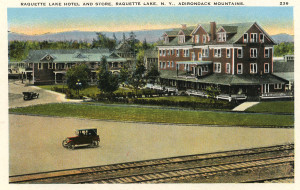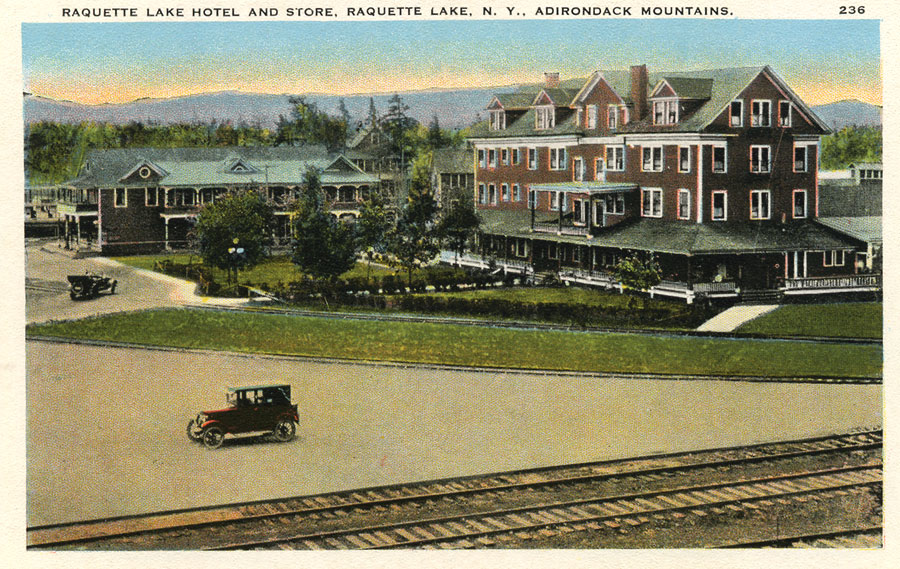 Raquette Lake House 1903-1927
Raquette Lake Supply
1900 – present
by the Reverend Ralph M. Carmichael (1912 – 1995)
and Mary Brown-Serman Walke Kirby (1917 – 2010)
The Central Adirondacks in the 19th Century
1835 – First recorded settlement at Raquette Lake on Indian Point…more
In our day wealthy Americans can vacation throughout the globe. But in the 19th century, one of the favorite haunts of the rich was the Central Adirondacks. Great and beautiful estates were carved up out of the wilderness by William West Durant and others, later purchased by the Whitney, Morgan and Vanderbilt families among others.
 
 
 1877 Verplanck Colvin Tertiary Triangulation on the ice of Raquette Lake
1911 photo S.R. Stoddard
Hunters' Rest more
 
 
 1916 photo S.R. Stoddard
1883 Echo Camp
Connecticut Gov P Lounsbury
more
 1905 photo H.M. Beach
Sunset Camp Woods Point
built by Dick Bennett 1895
more 
 
 
 1887 Antlers Casino & Boathouse
proprietor Charlie Bennett
more
 1889 photo S.R. Stoddard
Raquette Lake Hotel
(formerly Under the Hemlocks est. 1879 on Long Point)
more
HOTELS
The famous names were followed by hosts of lesser known vacationers, and by 1879 there was an explosion of visitors to the wilderness. Within two years enormous hotels stood on the shores of Blue Mountain Lake serving more than 1,000 overnight guests. There were lines of stages leaving daily from Merwin's Blue Mountain House, the American (Ordway House established 1877 on Prospect Point) with wall tents and John Holland's first Blue Mountain Lake House.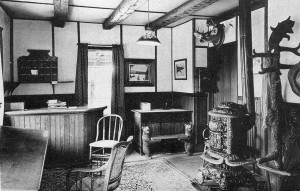 1876 Lobby Blue Mountain House

Raquette Lake never was overrun with huge hotels on its shores. The smaller hostelries blended into the wilderness without disturbing the peace and solitude sought by many escaping the summer heat of the cities – Ed Bennett's Under the Hemlocks on Long Point (1880), Ike Kenwell's early Raquette Lake House (1879) on what is now Tioga Point and George Leavitt's Forked Lake House (1877).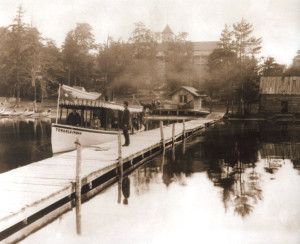 1898 Steamer 'Toowahloondah'
Blue Mountain Lake House
The small steamer Killoquah made the rounds on Raquette Lake and the Toowahloondah on Blue Mountain, Eagle and Utowana Lakes. According to Nessmuk's Adirondack Letters, even as early as 1879 vacationers walked across the Marion River Carry to meet the steamer Utowana on the other side. Horse-drawn carts carried their baggage. Stoddard recounts even earlier adventurers carrying their guide boats from one landing to the other, often stopping at Bassett's Carry Inn midway between the two.
CHURCH OF THE GOOD SHEPHERD
During the second week of August 1880, Nessmuk (George Washington Sears) heard "the sound as of one who drives nails into resonant boards" as he paddled his small 10-foot canoe from First Lake, searching for Ed Bennett's hotel on Long Point. And discovered our church under construction – which was dedicated just four weeks later on 12 September.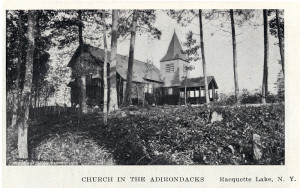 1880 Good Shepherd more
"…As I live, it turned out to be a new church in the course of erection on an island.

"Just where the congregation is to come from I can not say, but preachers are plenty enough here in the summer, and perhaps it is well that they should have a regular house of worship somewhere in the woods in order to keep their hands in while doing the wilderness…."
PROSPECT HOUSE
 
 
 
 1897 ad
 Prospect House 1882-1915
Blue Mountain Lake
built by Frederic Durant
Courtesy Prospect Point Cottages
 1899 ad

This class of clientele (Julliard, Guggenheim, Woolworth) accounts for the fact that in 1882 the first hotel in the world to have electric light in all 300 rooms, thanks to Thomas Edison himself, was on Prospect Point in Blue Mountain Lake.
And another first for the Prospect House was serving ice cream with dinner each evening.
Prospect House was built by Frederic Durant (nephew of Dr. Thomas Durant) on the site of the three-story Ordway House, also known as the American 1877-1880. Frederic purchased Ordway House from the owners in 1879 and ran it the final year. In 1881 he added it to the rear of his new six-story hotel which had its grand opening in 1882. Prospect House could sleep 500 and also boasted the first steam elevator, using Edison's electric dynamo.
From 1901-1902 Prospect House, under new ownership, was briefly known as the Utowana in an attempt to restore bygone glory. Many of the photos are from publicity generated during those years.
Frederic also built Camp Cedars on Forked Lake, which was in the same twin-towered style as his brother Charles Durant's Camp Fairview on Osprey Island on Raquette Lake. The design also reappeared in Echo Camp in 1882-83, leading Craig Gilborn (Durant: The Fortunes and Woodland Camps of a Family in the Adirondacks, Sylvan Beach, NY: North Country Books, 1981) to surmise all three camps used the same architectural plans.
RAQUETTE LAKE RAILWAY
 
 
 1900 – 1933 Raquette Lake Railway Station
more
 1909 Raquette Lake Station & Dock

 
 
 1890 Private car 'Oriental'
at Adirondack Museum
Steamer 'Adirondack' waiting for passengers
at Raquette Lake Station
Beginning in 1900, travelers could come by NY Central Railway all the way from New York City to Raquette Lake Village. The famous names arrived in private railroad cars, and a half-dozen of these cars could be seen abandoned on sidings in the village when we arrived in 1957.
A private car from the Gilded Age, the Oriental, is now on exhibit at the Adirondack Museum in Blue Mountain Lake. In the 1950s and 60s the Raquette Lake Station was a popular restaurant, first called the "Mountain Villa" managed by Harry Kellogg until his death in 1954, and later the "Old Station." It was destroyed by fire in December 1972. It was such a shock to return the summer of 1973 and find the station gone.
 
 
 1900 Original Raquette Lake Supply – later
rebuilt after disastrous 1927 fire
that destroyed the village   more
 1903 – 1927 more
ADIRONDACK RAILWAY
| | |
| --- | --- |
|   |   |
|  1888 ad with Open Camp |  1888 ad listing WW Durant |
But earlier, between 1878 and 1900, more hardy travellers came from New York City to North Creek by way of Saratoga Springs on the Adirondack Railway, built by Dr. Thomas C. Durant and Leland Stanford.
The Bradley Stage Line opened in 1878, soon followed in 1879 by the "4 & 6 Overland Company" founded by William West Durant. This later evolved into the Blue Mountain Lake Stage and Transportation Company.
 
 
 1900 New Zealand Stagecoach
photo Williams Henry Jackson
 1903 Adirondack Mountain Stage
photo William Henry Jackson
 
 
 1906 Location of Blue Mountain
Stage Hold-up
 1878 Opening of Bradley Stage Line
North Creek to Blue Mountain Lake
 
 
 July 1886 ticket for Buckboard Carriage
 Leaving North Creek 6:30 am
At the North Creek depot they boarded stagecoaches and made it the rest of the way to Blue Mountain Lake over some 30 miles of rough and dusty road. A fleet of rowboats and later steamers waited to transport visitors to the hotels, camps and boarding houses around the lake or on to Raquette Lake.
Travel from New York City to the Adirondacks often took 24 hours, or even 41 hours without sleeper cars. Soon that was to change.
Continue to William West Durant
---
Raquette Lake | William West Durant | Great Camps | Clergy | Time Line | Writings | Documents | Bibliography
---