Raquette Lake House No. 3
1903 – 1927
 
 
 From 1903 Brochure
Alonzo Mix photographer
  View from Raquette Lake House
Men on barge fitted for freight car to carry supplies
to Blue Mountain over Marion River Carry RR
 
 
 
 HM Beach photo for advertising postcard
Note trees are whited out
1903 colorized
 c1905 HM Beach
A Glimpse of the Store & Hotel
 
 
 
 1910 Addition on Left
White trim, hedges
 c1914
 c1920
 
 
 
 HM Beach photo
From the lake – note RR passenger car
on far right
 Office & Writing Room
Raquette Lake House
 Faded business card
2 1/2 x 1 1/2
Raquette Lake House #1 – Forked Lake Carry
There were actually three hotels named Raquette Lake House. [The Hemlocks became the Raquette Lake Hotel.] The first was near the Forked Lake Carry, where visitors could more easily access Raquette Lake. The hotel existed from 1857-1873 and was run by a man named Wilbur who later sold to Cyrus Kellogg, then Thomas Carey and finally Ruben Carey.
During a 1920s interview, William West Durant showed author Alfred Donaldson the 1857 hotel register which listed 44 guests that first season, including many names prominent in New York society. In 1858 the list increased to 75, and it grew each succeeding year.
In 1877 the abandoned hotel was dismantled, reassembled on the Long Lake side of the Forked Lake carry and renamed the Forked Lake House. It later enjoyed great popularity as Fletcher's.1
Raquette Lake House #2 – Kenwell's (Tioga) Landing
The second was a two-story log cabin, constructed by Ike Kenwell about 1879 on what is now Tioga Point, and was the lake's first true hotel. In 1890 a rough wagon road was cut from the Marion River Carry to the hotel, likely for supplies.2 Rates were $1.50 per day, $7 to $8 per week. He ran it for eleven years before returning to Indian Lake. Kenwell's Landing was the early steamer dock for passengers continuing on to Forked and Long Lakes. The Raquette Lake Steamboat Company was formed in 1879.
Raquette Lake House #3 – Raquette Lake Village
The hotel featured on this page opened in 1903 in the village, George C. Reardon manager, in the center of the return loop for the Raquette Lake Railway. Business must have exceeded expectations as a new wing was added on the south end within the decade, increasing capacity to over 200. The four-story establishment did a good business until most of the village was destroyed by fire in 1927. [see below]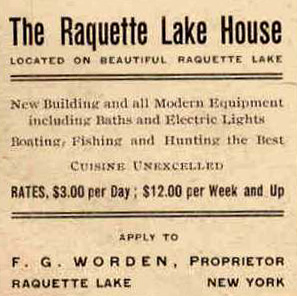 The second proprietor was F.G. Worden who sent out postcards advertising the new building with electric lights, boating, fishing and "cuisine unexcelled." Rates began at $3 a day and $12 a week per person.
~~~~~~~
1927 – February 20, NY Times – FRONT PAGE – Fire destroyed six buildings, including the Raquette Lake House, Raquette Lake Supply and three lake steamers [Adirondack, Killoquah and Saratoga], caused damage here today of at least $400,000 and left about seventy-five persons homeless.

NY Central Railroad allows villagers to seek food and shelter in its Raquette Lake station which was left untouched by the fire as supplies are brought in from Old Forge.
~~~~~~~
1 Donaldson, Alfred L., A History of the Adirondacks, New York: Century Company, 1921. Paperback, Fleischmanns, NY: Purple Mountain Press, Inc., 1996. vol. I: pp 89-90, 94-95
2 Aber, Ted and Stella King, The History of Hamilton County, Lake Pleasant, NY: Great Wilderness Books, 1965. pp
---
Return to Raquette Lake Photos