1880 Seneca Ray Stoddard
Camp Cedars Forked Lake
1880-1950
 
 
 1888 Camp Cedars
One of the towers visible left rear center
 1888 Ready for the Hunt
 
 
 1885 Edward Bierstadt photo
Camp Cedars – "Japanesque" influence
was very popular in this era
 Replica of the same interior
at the Adirondack Museum
Camp Cedars on Forked Lake was built for Frederic C. Durant, nephew of Dr. Thomas C. Durant of Union Railroad fame and cousin of William West Durant.
According to Seneca Ray Stoddard in his 1881 edition of The Adirondacks: Illustrated, Dr. Durant was the driving force behind the development of the resources in the Adirondacks as well as extending his railway lines, leading to the growing wealth and importance of the North Woods.
In 1921 Alfred L. Donaldson echoes the same sentiment in his two-volume work, A History of the Adirondacks. During an interview with Donaldson, William West Durant gives credit for the far-sighted thinking to his father, Dr. Thomas Clark Durant.
 
 
 1879 Edward Bierstadt
Camp Fairview Osprey Island
 1882-83 Seneca Ray Stoddard
Echo Camp on Long Point
Camp Cedars was built using the same plan Frederic's brother, Charles Durant, used for Camp Fairview in 1879 on Osprey Island. Charles Blanchard, builder, again used the design for Echo Camp, built for future Governor Lounsbury of Connecticut between 1882 and 1883.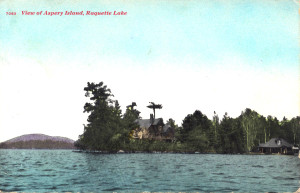 Camp Fairview after 2nd floor added
The look of Camp Fairview was slightly changed when a second story was added between the two towers, likely after the 12-acre island was purchased by S. Harvey Ladew in 1891. Earlier a second floor with sleeping quarters for the help had been added to the boathouse by Charles Blanchard and caretaker Joseph A.O. Bryere (owner of Brightside-on-Raquette and known for his beautifully carved furniture).
The architect is unknown, but Craig Gilborn in Durant: The Fortunes and Woodland Camps of a Family in the Adirondacks writes that all three twin-towered Camps on or near Raquette Lake were likely designed by the same person. Echo is the only one of the three still standing.
The great storm in November 1950 that damaged so much of the Adirondacks also destroyed Camp Cedars. One remaining small out-building, Sunset Cottage [select image No. 2], can still be seen at the Adirondack Museum, "an outstanding example of mosaic twig work."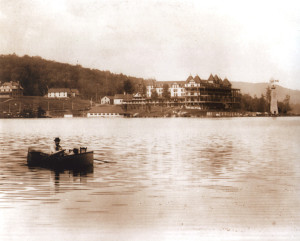 1882-1915 Prospect House
In 1879 Frederic Durant purchased the Ordway House on Prospect Point on Blue Mountain Lake. The three-story hotel was built in 1877 by James and Mary Ordway. Frederic operated the smaller hotel the summer of 1880, then in 1881 began construction on the six-story Prospect House, modeled after the great Victorian hotels in Saratoga Springs. It was the first in the world to have electric lights in every room and a steam elevator thanks to Thomas Edison himself. It opened with great fanfare in July 1882.
1882 – 1st July – NY Times "Prospect House opens on Blue Mountain Lake, can accommodate 500 to 600 guests, generator built by Thomas Edison, a steam elevator and with electric light in all 300 rooms"
---