CARNEGIE CAMP – GREYLOCK – NORTH POINT INN
1870
  1903 View of Lucy Carnegie Camp from lake
 Camp Petiebruff Dining Hall
Camp of Andrew Carnegie II
  Carnegie Camp
 
 
 
 Carnegie Camp
 Aerial View of North Point Camps
from the East
 1907 Carnegie Camp
NORTH POINT by LARRY MILLER
The following material is © 2006 by Larry Miller, used with permission
One of the most unusual Great Camps, North Point, was built on the site of a hunting camp owned by James Ten Eyck [1840-1910], an Albany businessman. Cyrus Kellog, a local resident, had built the camp in 1870 for a party by the name of Taylor and, when they decided against purchasing it, he sold it to Ten Eyck in 1872.
This original structure, rather modest in scale and execution, was torn down when Lucy Carnegie (Coleman) [1847-1916] the widow of Thomas Carnegie and sister-in-law of Andrew Carnegie bought the property in 1901.
Lucy's family had been renting the Stott Camp just a few hundred yards across the lake, from her cousin Mary Clark Stott since 1898 and decided that she would build a summer home here for her large family.
Her son, Andrew II, in particular enjoyed the outdoor life but "Mama" Carnegie was also an avid hunter, angler, hiker and golfer. Andrew II had recently married Bertha Sherlock, a petite handsome woman with black hair and blue eyes. He encouraged his mother to build the camp on the Ten Eyck site, which he had frequently sailed past while staying at the Stott Camp, noting the deteriorating condition of the camp and its lack of use. Perhaps he also thought that it would also make an ideal location for a summer camp for him and his young wife.
As an architect, Lucy chose Kirtland Kelsey Cutter, who had a distinguished reputation in the Washington State and California areas but gained international renown when he designed the Idaho Building for the 1893 Chicago Worlds Fair.
 
 
 1893 Idaho State Building
architect Kirtland Cutter
 1903 Lucy Carnegie & relatives
architect Kirtland Cutter
That building was a modified Swiss Chalet of heavy log construction with rocks securing the roof shingles. The main residence, the Assembly Hall, is connected to a smaller Dining Hall that also served as living quarters for the household help. In addition to these buildings, there were several guide's houses, an ice house, a large boat house and a water tower that originally was to be a windmill.
The camp was completed late in the summer of 1903 and was well used by Lucy and her nine children and assorted grand children. Some family members would stay the entire summer.
Andrew II, his wife and two children, Nancy and Lucy, busied themselves making preparations to build their own summer home on a portion of the Ten Eyck tract that Lucy had given them as a wedding present. Here he built a
modest camp that he named Petiebruff, which still stands.
The main living quarters was a one and a half story log structure with wood shingled roof and a large enclosed porch facing the lake. The dining hall was two stories with a kitchen and dining room on the first level and sleeping quarters above. There were several other utility structures including a boat house and guide quarters.
After Lucy Carnegie died in 1916, Andrew, faced with the prospects of acting as trustee for Lucy's estate found himself spending less and less time on the lake. In 1921 they sold the camp to Mrs. Herman Mason who used it as a summer camp for girls.
Lucy's camp was sold to the Raquette Lake Supply Company after it had been run for several years as Chalet Lucerne. For several decades after it was used as a resort inn known as the North Point Inn.
Both properties are now privately owned.
The above material is © 2006 by Larry Miller, used with permission
~~~~~~~
Related Carnegie newspaper clippings here
The Carnegies & Cumberland Island by Nancy Carnegie Rockefeller
"Lucy Coleman was born in Pittsburgh. She met Thomas Morrison Carnegie through her father who was connected with the Carnegie brothers in business. He provided coal and coke for their factories. They were married when she was twenty in 1866. When young, she was very slim with dark hair and brown eyes. As she became older, she became very stout, and being short, she had difficulty getting around. She rode horseback with the children, played golf and shot with the boys, and in later years, drove her own electric car. "Mama Carnegie" as she was called by the family, was always interested in and kind to the in-laws."
Obituary in Pittsburgh Gazette-Times
"Mrs. Carnegie was born in Pittsburgh and spent the greater portion of her life in this city. She was the daughter of Mr. and Mrs. William Coleman, her father being a wealthy landowner of Pittsburgh. During the winter months for the past 20 years she had made her home on Cumberland Island, GA, and spent the summers in the Adirondack Mountains, New York."
~~~~~~~
NORTH POINT INN 1924-1950s
| | |
| --- | --- |
|   |   |
|  1924 North Point Inn Main House |  View from North Point Inn |
|   |   |
1925 letter quoting rates for the North Point Inn – $37.50 to $40 a week per person
Carnegie Property at Raquette Lake is Sold
Lowville (NY) Journal and Republican May 1, 1924
"Purchase of the Carnegie property, Raquette Lake, consisting of 340 acres of virgin forest, by a group composed of Maurice Callahan of Old Forge; Dennis Dillon and John Callahan of Raquette Lake; and Dennis B. Moynehan, Glens Falls, is announced. An exclusive summer hotel, North Point Inn, is planned by the new owners. The property was first purchased from the state by James Ten Eyck, of Albany, in 1880. Mrs. Lucy Carnegie bought it in 1902. Andrew Carnegie was a frequent visitor at the camp."
~~~~~~~
| | |
| --- | --- |
|   |   |
|  1940 Camp Greylock for Girls |  1950s War Canoe |
CAMP GREYLOCK FOR GIRLS 1921-1971
In later years the property was divided into smaller camps. In 1921 Andrew II's camp was sold to the Mason family and became Camp Greylock for Girls. From 1955-1971 Greylock was owned and operated by Naomi Levine. Senior campers said they were expected to read the New York Times in full each Sunday in order to discuss world events that evening!
Mrs. Levine reluctantly closed the camp when she left to become president of the American Jewish Congress. She is presently the Executive Director of the George C. Heyman, Jr. Center for Philanthropy and Fundraising at New York University.
~~~~~~~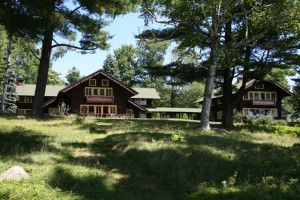 2006 View of North Point
North Bay is the deepest part of Raquette Lake, and for many years the home of the largest lake trout in the area. Visitors launched their huge boats from the Antlers or the Village Dock, outfitted as though they were going deep sea fishing. As late as 1962 I still saw lake trout that came up to a man's belt buckle.
The Rev. William Brown-Serman's granddaughter Mary remembers one of the first motor launches on the lake, a beautiful wooden Chris-Craft, bringing Carnegie guests to church on St. Hubert's Isle each Sunday.
Greylock and the former Carnegie camp are both subdivided now, allowing many more families to have their own little bit of heaven here on Raquette Lake.
Thanks to Larry Miller and Roger Corbin for their contributions to this page.
---