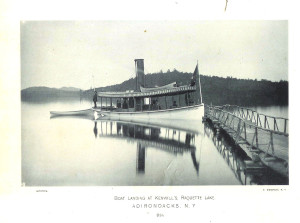 1885 "Boat Landing at Kenwell's," Edward Bierstadt photographer
 
 
 Sailing at Tioga Point
 1948 Cottages on Tioga Point
  1930s Cottages
 1951-1967 Camp Raquette
Conservation Camp for Boys
Note same cottages through the trees
From 1879 to 1890 Kenwell's Landing, opposite Indian Point, was the site of the second Raquette Lake House, one of three early hotels on Raquette Lake. The other two were Ed Bennett's "Under the Hemlocks" on Long Point (1880-1899) and George Leavitt's "Forked Lake House" (1878) later known as "Fletcher's at the [Forked Lake] Carry."
Leavitt's hotel was constructed from part of the log structure of the first Raquette Lake House on Indian Point 1857-1873, run by a man named Wilbur.
In August of 1880 Nessmuk wrote, "Across the lake [from Ed Bennett's] we made another landing – Kenwell's – and found another hotel, new, neat, well found and moderate in price. Kenwell's terms are $1.50 per day, $7 to $8 per week, and his place is very pleasantly located." 1

Ike Kenwell ran his Raquette Lake House for eleven years before returning to Indian Lake. In 1890 he sold the property to Dennis McCarthy of Syracuse who erected a private camp on the site. An early steamer ticket 1879-1899 from Raquette Lake Steamboats lists Kenwill's Landing [misspelled] as the terminus.
In 1906 Dr. Evans purchased Tioga Point and constructed more than a dozen out-buildings in the style of the Adirondack Camp. His brother, the esteemed musician Anthony Evans, was the organist for the Church of the Good Shepherd on St. Hubert's Isle for many summers.
Anthony was also known for his singing of Welsh hymns and was a fixture at Echo Camp on Sunday evenings, often at the request of Connecticut Governor Lounsbury's daughter, Mrs. Griffith.
Today Tioga Point is popular with canoeists. "From 1951 to 1967 the Raquette Lake Boys Camp was operated by the Conservation Department on the site that is now Tioga Point Public Campground. The 21 buildings were removed during the winter of 1967-68, and the property was converted into a camping area for canoe route users." State of New York
1from Nessmuk's Adirondack Letters published in "Forest and Stream," November 1880
---