Page 1
 
 
 
 Camp Bennett – tourist cottage on Long Point
built by Charlie Bennett in 1875
before he built the Antlers
 Raquette Lake, West from Camp Bennett
Commercial photo by Stoddard
 Stereoview – West from Camp Bennett
Strawberry Island in background
 
 Under the Hemlocks est. 1880
on Long Point – 2nd building 1882
 
 
 
 1885 E. Bierstadt photo
Under the Hemlocks, Hotel
 1885 E. Bierstadt photo
Piazza, Bennett's Hotel
 1888 Stoddard photo
Steamer Killoquah
Under the Hemlocks dock
 
 
 
 1888 Stoddard Collage Under the Hemlocks
 Killoquah at Hemlocks dock
 1889 Stoddard – Under the Hemlocks
renamed Raquette Lake Hotel
 
 
 
 1890 St. William's on Long Point
built by William West Durant
 Shingle style designed by
Josiah Cleveland Cady
 c1905 H.M. Beach St. William's
 
 
 
 c1905 St. William's perhaps by Beach
 1891 Letter Father Kelly to WW Durant
thanking Durant for the church and
for organizing the dedication festivities
 2006 St. William's
 
 
 
 1902 William Henry Jackson
A Glimpse of Raquette Lake from St. Hubert's
 1902 William Henry Jackson
From the Crags
 1904 Alonzo Mix
West Mountain from the Crags
 
 
 South Bay Tourist Cottage
built 1908 by John Blanchard
 c1905 H.M. Beach – The Inlet
Steamers, Carlin's Marina, RR sheds
Ed Bennett (1854 – 1932) was one of three brothers, two of whom became well-known as Adirondack guides in the 1870s. All three built early hotels on Raquette Lake. In 1875 Charles H. Bennett built a tourist cottage on the end of Long Point looking out towards St. Hubert's and Strawberry Islands.
Ed and Charlie Bennett opened Under the Hemlocks near the cottage on Long Point in 1880, but Charlie soon left to build the Antlers which opened in 1887. Their younger half-brother Dick Bennett built Sunset Camp in 1895 on Woods Point across the bay from Long Point.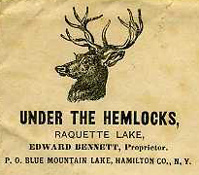 Under the Hemlocks was the first framed structure on the lake. Unfortunately, it burned down in 1882 but was quickly replaced with a larger more beautiful establishment as seen above in photos taken by Seneca Ray Stoddard and Edward Bierstadt.
According to Stoddard in his 1889 edition of The Adirondacks, Under the Hemlocks opened that summer as the Raquette Lake Hotel. Ed Bennett had sold to the Finck brothers who planned to add another story and had already purchased additional cottages. This would increase the capacity from 100 to 200 guests.
But within 10 years Under the Hemlocks burned down a second time in 1899 and this time was not rebuilt.
There was a second hotel called The Hemlocks. A 1900 Delaware & Hudson railway brochure lists the proprietor as J. J. Daily. The hotel accommodated 60 including cottages, adults were $12-18 a week or $3.50/day, it was newly furnished, with telegraph and post office nearby which makes it appear to have been located near the present day village.
William West Durant brought the telegraph up from Saratoga through Indian Lake and Blue Mountain Lake to his home, Pine Knot, on the south side of Long Point.
He opened the Durant post office with telegraph on the north side of Long Point near St. William's church in 1889, conveniently located for hotel patrons. When the Raquette Lake Railway opened in 1900, the post office, general store and telegraph office moved from Long Point to the present location.
~~~~~~~
Images courtesy Robert Reid (9), Larry Miller (5, 6, 8, 13, 19), Cardozo Fine Art (14, 15) and Prospect Point Cottages (11, 12)
---